He was a sick man. He came here to die. Names didn't matter to him anymore

WRITTEN BY:
Jacques Gillies
Ralph Smart

FIRST BROADCAST:
23/12/1965
CAST:
John Drake
............
Patrick McGoohan
Wallace / Hagen
............
Ian Hendry
Dr Brajanska
............
John Phillips
Caroline
............
Jemma Hyde
Krummenacher
............
Harold Kasket
Kasser
............
Martin Wyldeck
Meyer
............
William Dexter
Verena
............
Rachel Herbert
Man in Taxi
............
Basil Dignam
Buchler
............
Kevin Stoney
Miss Wallace
............
Gretchen Franklin
Carl
............
Frank Maher
Wilhelm
............
Les White
EPISODE DETAILS:
Written by new writer John Gillies who wrote under the name Jacques Gillies, 'Say it with Flowers' was the 36th fifty-minute episode and the tenth to be made at Shepperton Studios.

Drake poses as an insurance investigator when Hagen, an enemy agent dies in Switzerland. Drake's mission is to ensure that Hagen is really dead going to great lengths to find out whose body was in the coffin, but in doing so endangers the life of undertaker 'Buchler'.

'Say it with Flowers' touches upon the topical issue of plastic surgery, as Drake learns that Hagen isn't dead but has had extensive plastic surgery. At the beginning of the episode we see Wallace leaving for Switzerland for exciting new work prospects, but soon he and his only remaining relative sister Rosemary, are both murdered clearing the way for Hagen to take on Wallace's identity, but can Hagen pull it off?

The episode had the working title 'The Goat' when it was filmed between Thursday 30th September and Wednesday 13th October 1965. By the time the captions had been made, the episodes title had changed to 'Say it with Flowers' the slogan on the flower delivery van which kills Miss Wallace. An alternative title was considered; 'Sometimes a goat strays among us' from Kasser's comments in act one.

Featured in this episode are three actors that later went on to appear in the prisoner; Basil Dignam, Rachel Herbert and Kevin Stoney.
Episode Titles: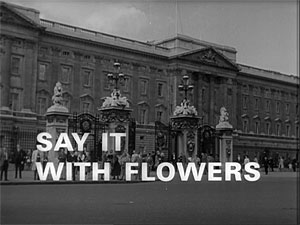 TV Magazine Listings: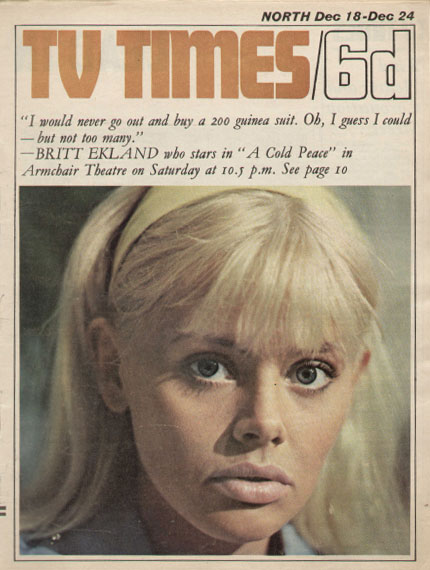 North Edition
Dec 18th - 24th 1965
Filming Locations:
Stewart Avenue, Shepperton, TW17
New Bond Street, London
High Street, Walton-on-Thames
Littleton House, Shepperton Studios
Sankt Gilgen Rathaus, Austria
Porto di Tragara, Capri, Italy
Click here to view the location details