We all talk. It's just a question of time

WRITTEN BY:
Donald Jonson
Ralph Smart

DIRECTED BY:
Michael Truman

FIRST BROADCAST:
30/12/1965
CAST:
John Drake
............
Patrick McGoohan
Lydia Greshnova
............
Jane Merrow
Meredith
............
Norman Rodway
Interrogator
............
Ralph Michael
Forbes
............
Brian Worth
Peter
............
Simon Brent
Policeman at Garage
............
Murray Hayne
Garage Manager
............
Mike Pratt
Doctor Radev
............
Frank Gatliff
HQ Policeman
............
Roy Marsden
Night Porter
............
John Herrington
2nd Security Man
............
David Orchard
1st Security Man
............
Ken Haward
Girl in Bath
............
Angela Lovell
EPISODE DETAILS:
The 35th fifty-minute episode 'The Man Who Wouldn't Talk' was written by Donald Jonson & Ralph Smart. It was the ninth episode to be filmed at Shepperton Studios between Wednesday 15th and Wednesday 29th September 1965.

Meredith, a British spymaster in Sofia has been caught and tortured for three days. If Meredith talks the whole spy network will be compromised and forced to close and will take years to re-establish. Posing as a journalist, Drake must do whatever it takes to rescue Meredith. But first Drake must shake off the overpowering Lydia, played by Jane Merrow, whose job it is to ensure Drake has everything he needs during his visit.

Drake meets his M9 contact, Peter, and together they rescue Meredith from the basement of the police building. However upon awaking in Drake's hotel room, Meredith is terrified by a pulsating neon sign outside the window and believing he is still in the interrogation room he kills Peter believing he is one of the guards. When Drake discovers what Meredith has done his emotions are noticeable, he is openly contemptuous of Meredith but the mission still has to be completed.

In 'The Man Who Wouldn't Talk' it's easy to see why Patrick McGoohan was getting bored with the repetition in Danger Man stories, as superficially, the story offers nothing new. Viewers had already seen Drake carry out an ingenious rescue from a communist stronghold in 'A Room in the Basement' and pretend to be ill in 'You're Not in Any Trouble, Are You?' In particular, Drake hiding an injured agent in his hotel suite as he tries to elude the searching authorities is a direct lift from 'A Date with Doris', and casting Jane Merrow in a similar role to the one she had played in the previous episode unfortunately emphasises the similarity to Philip Broadley's earlier script.
Episode Titles: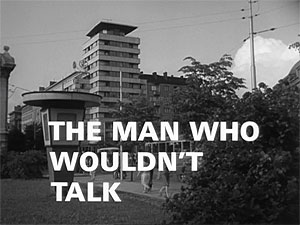 TV Magazine Listings: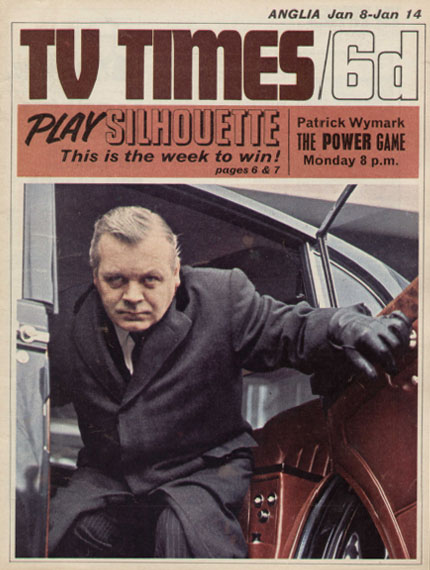 Anglia Edition
Jan 8th - 14th 1966
Filming Locations:
There are no known locations for this episode