You've spent so much time frightening little men that you think you can do it to everyone

WRITTEN BY:
Donald Jonson
Ralph Smart

DIRECTED BY:
Stuart Burge

FIRST BROADCAST:
13/01/1966
CAST:
John Drake
............
Patrick McGoohan
Louise Carron
............
Elizabeth Shepherd
Colin Ashby
............
Lyndon Brook
Fenton
............
Derek Francis
Mather
............
John Brooking
Dark Glasses
............
Gordon Whiting
Barbier
............
Reginald Barratt
Barjou
............
Michael Anthony
Jill Preston
............
Sheila Steafel
Barjou's Secretary
............
Maureen Davis
Receptionist
............
Nicole Shelby
Girl
............
Jacqueline Hall
Himself
............
Mark Lester
Alex
............
Peter Brace
Stefan
............
Peter Brayham
Leon
............
Derek Baker
Carl
............
Alf Joint
EPISODE DETAILS:
Written by Donald Jonson & Ralph Smart, 'Dangerous Secret' has one of the most haunting opening sequences seen in the Danger Man. Two young children are seen breaking into a virus research unit in the idyllic countryside where they enter greenhouses full of dead flowers. They are spotted by two sinister figures in protective suits that frighten the children, but thankfully they turn out to be good guys, saving the children's lives.

Reading Andrew Pixley's production notes, the opening sequences were originally to be even more frightening; "originally, the men in protective gear shouted at the children and had been using flame throwers on the greenhouse foliage. The sequence had initially been planned to have the boy and girl attempting to scale the perimeter wall to escape, but being pulled back by the heels by the faceless men."

The children's narrow escape plays on scientist Colin Ashby's conscience and he resigns not comfortable with the chemical-warfare work he is doing. However his superiors are not happy, they hound him and confiscate his passport. So Ashby uses his boat and flees to France. Drake's mission is to find Ashby and bring him back however he soon learns that he is not the only person interested in the welfare of Ashby, but who does Ashby trust and who will get to him first.

'Dangerous Secret' was filmed between Friday 29th October and Tuesday 16th November 1965, the 38th fifty-minute episode and the twelfth to be made at Shepperton Studios.
Episode Titles: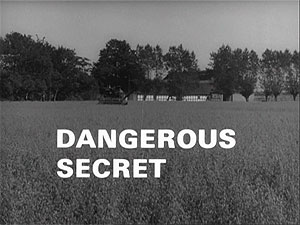 TV Magazine Listings:
I have no TV magazine containing this episode
Filming Locations:
Watertower, Shepperton Studios
Shepperton
Littleton House, Shepperton Studios
Littleton House, Shepperton Studios
Click here to view the location details