I'm not his secretary. She's very pretty

DIRECTED BY:
George Pollock

FIRST BROADCAST:
20/01/1966
CAST:
John Drake
............
Patrick McGoohan
Jean Smith
............
Wendy Craig
Ma Suud
............
Anthony Newlands
Nubar
............
Bernard Archard
Seghir
............
Henry Gilbert
Police Sergeant
............
Tony Jason
First Watcher
............
Ben Ari
Second Watcher
............
Alan Chuntz
First Thug
............
Bob Anderson
Second Thug
............
Eddie Powell
Military Attaché / Fortune Teller
............
Warren Mitchell
EPISODE DETAILS:
The 39th fifty-minute script, 'I Can Only Offer You Sherry' was written by Ralph Smart, Danger Man's creator and executive producer and had the working title 'The Frightened Lady'. This episode was the thirteenth episode to be filmed at Shepperton Studios between Wednesday 17th November and Friday 3rd December 1965.

M9 has learnt that details of oil reserves have fallen into enemy hands and Drake soon finds himself in the Middle East assigned to investigate the suspect believed to be behind the leak. The suspect is Jean Smith a quiet, timid, self-deprivating English girl working for the British Embassy. After gaining Jeans confidence and realising she is no enemy agent, Drake reveals his real identity and the purpose for his visit. Drake learns that Jean being lonely joined what she believed to be a political group and was duped into handing over oil statistics.

When the captions for the episode were completed on Wednesday 15th December 1965, the title had been changed from 'The Frightened Lady' to 'I Can Only Offer You Sherry', a phrase spoken by Jean to Drake early in the episode and repeated by Drake at the very end.

In this episode, for the first time McGoohan wears a suit identical to the one he would dress in for the title sequence and opening and concluding episodes of The Prisoner. With the benefit of hindsight, this crossover between the two series can be seen as one of the sources of the 'John Drake is the Prisoner' debate.
Episode Titles: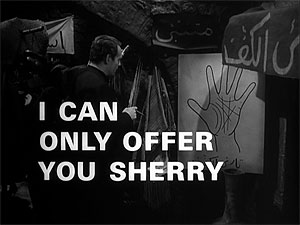 TV Magazine Listings: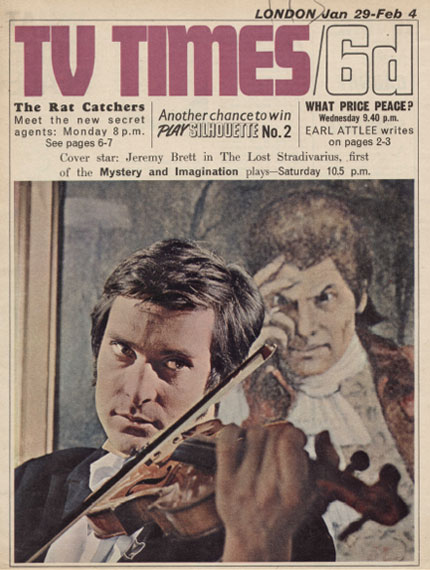 London Edition
Jan 29th - Feb 4th 1966
Filming Locations:
There are no known locations for this episode