Each day one learns more of the evils of politics… Choose the lesser of two evils – protect the least poisonous of the monsters

WRITTEN BY:
Jesse Lasky Jr.
Pat Silver

FIRST BROADCAST:
10/03/1966
CAST:
John Drake
............
Patrick McGoohan
Commisioner Winlow
............
Geoffrey Keen
Pilar Lin
............
Lelia Goldoni
Dr Shargis
............
Paul Curran
Singri Rhamin
............
John Woodvine
Aldo Shargis
............
Richard O'Sullivan
Jose
............
Guido Adorni
Censor
............
Anne Blake
1st Prison Guard
............
Albert Sheperd
Police Officer
............
Malcolm Rogers
Guard
............
Clive Cazes
2nd Prison Guard
............
Reuben Elvy
EPISODE DETAILS:
The 41st script 'Two Birds with one Bullet' came from husband and wife writing team Jesse Lasky Jr and Pat Silver.

This episode sees Drake in the Caribbean nation of Belize, then known as British Honduras. Drake poses as Mr Black from the Peoples Gazette in London, there to photograph and report on Dr Shargis's nationalist party during the election.

In reality Drake is there to protect Dr Shargis's from the even more extreme elements in his party, but fails to do so as Shargis is murdered by his deputy Shingri Rhamin and Pilar Lin, who has worked with Drake before and knows of his real identity. The plotters then set Drake up to look like the assassin, hence the episodes' title 'Two Birds with One Bullet'.

Drake is arrested but soon escapes from prison and doctors a taped radio broadcast discrediting Rhamin and exposing the truth which leads to the downfall of the plotters. Drake wins the trust of Aldo, Shargis's son, who previously wanted Drake's head in vengeance. The episode ends with Aldo becoming the new leader of the nationalist party, leading them to victory in the elections, something his father would have been proud of.

Filmed over the Christmas period between Friday 17th and Friday 31st December 1965, 'Two Birds with One Bullet' was the fifteenth episode filmed at Shepperton Studios.
Episode Titles: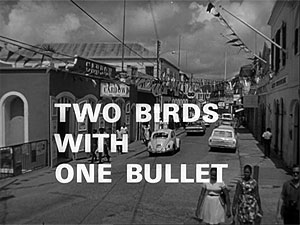 TV Magazine Listings: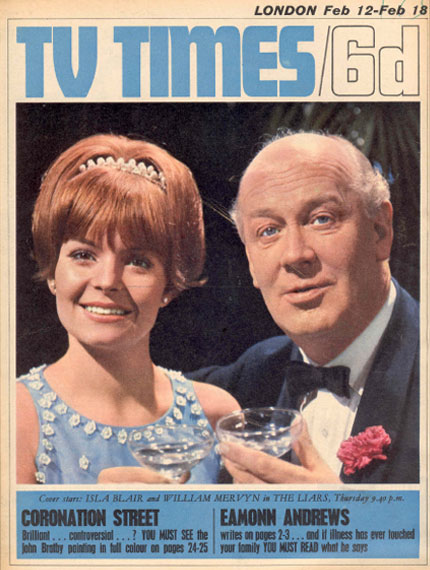 London Edition
Feb 12th - 18th 1966
Filming Locations:
There are no known locations for this episode