That's how you intend to find the traitor, by seeing which one of us betrays you

DIRECTED BY:
George Pollock

FIRST BROADCAST:
17/03/1966
CAST:
John Drake
............
Patrick McGoohan
Captain Schulman
............
Paul Eddington
Leanka
............
Jeanne Moody
Leontine
............
Guy Deghy
Aurel
............
John Cazabon
Stoian
............
Fredric Abbott
Standfast
............
Vincent Harding
Corbu
............
Les White
Police Sergeant
............
Granham Ashley
EPISODE DETAILS:
'I'm Afraid You Have the Wrong Number' written by Ralph Smart, was the first episode of Danger Man to be completed in 1966, shot between Monday 3rd and Tuesday 18th January 1966. It was the sixteenth episode made at Shepperton Studios and the 42nd fifty-minute story completed overall.

The episode starts in Switzerland with M9 spy chief Standfast being abducted and a similar dead man's body being put into his car before being set alight. Drake's mission takes him to Switzerland, posing as an Insurance adjuster looking into the financial affairs of Standfast, but really there to determine what has happened to him. However his cover does not fool chief of police 'Captain Schulman', played by Paul Eddington who is very suspicious of Drake and keeps a close eye on him throughout the episode.

Drake has to determine who betrayed Standfast and telephones each of his three contacts who use the phrase 'I'm Afraid You Have the Wrong Number' followed by the correct number which is in fact a reference to a meeting venue.

This episode is very similar to 'Are you going to be More Permanent?', however in this episode Standfast is not dead but being held captive. Drake not only manages to identify the double agent but also rescues Standfast.
Episode Titles: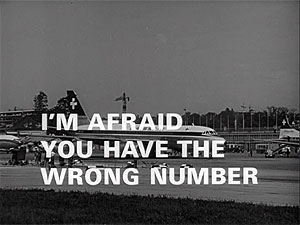 TV Magazine Listings:
I have no TV magazine containing this episode
Filming Locations:
The Thames Court Hotel, Shepperton
Click here to view the location details