I must warn you, I'm much sought after

WRITTEN BY:
Ralph Smart
Philip Broadley

DIRECTED BY:
Patrick McGoohan

FIRST BROADCAST:
31/03/1966
CAST:
John Drake
............
Patrick McGoohan
Nandina
............
Joan Greenwood
Eddie Gelb
............
Kenneth J Warren
Tamasio
............
Aubrey Morris
Laprade
............
Ferdy Mayne
Gordon Symonds
............
Simon Lack
Joe
............
Peter Swanwick
Frankie
............
Peter Stephens
Sam
............
Oliver MacGreevy
Canesi
............
Sandor Eles
Gloria
............
Clair Gordon
Paula
............
Hanja Kochansky
Constantine
............
Steve Plytas
Waiter
............
Guido Adorni
Customer
............
Andreas Malandrinos
Agent
............
Ben Ari
EPISODE DETAILS:
Philip Broadley and Ralph Smart's last script is another that McGoohan remembers as one of his favourite productions in the series. It is easy to see why. The episode shows how the actor's career would develop post Danger Man in its preoccupation with 1960's society and with McGoohan once again in the director's chair.

Gordon, a British Diplomat in Rome has been foolish enough to leave his briefcase containing top secret papers in his car whilst meeting a beautiful young lady in a café. Tamasio an opportunist thief and lottery seller, played by Aubrey Morris, steals amongst other things, the briefcase not knowing the value of its contents.

Gordon, who is frantic at the theft of the papers, calls on old friend Drake for help. The chase for the stolen papers is on but Tamasio has already sold them, so Drake visits bit-part actor Eddie Gelb. Drake joins Gelb's high-stake poker game and gains a hold over his host who cannot afford to cover his gambling losses. But Drake is too late as the papers have already been sold on. This takes Drake to the hotel and 'sanctuary to criminals', owned by the glamorous Nandina where the current occupant of the papers is residing. But Drake will have to be quick as the papers are due to exchange hands again very soon…

The eighteenth episode to be filmed at Shepperton Studios between Friday 4th and Thursday 17th February 1966, 'The Paper Chase' is the 44th fifty-minute instalment and arguably one of the best episodes of the whole production. Not one to be missed!
Episode Titles: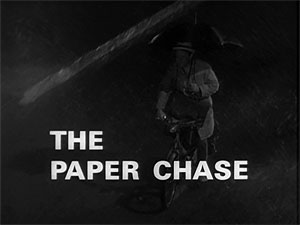 TV Magazine Listings:
I have no TV magazine containing this episode
Filming Locations:
Bulkeley House, Middle Hill, Englefield Green, Surrey
Middle Hill, Englefield Green, Surrey
Click here to view the location details