They believe in the poetry of death. They were artists in assassination

WRITTEN BY:
Norman Hudis
George Markstein ?

DIRECTED BY:
Michael Truman

FIRST BROADCAST:
05/01/1968
CAST:
John Drake
............
Patrick McGoohan
Ako Nakamura
............
Yoko Tani
Rosemary
............
Amanda Barrie
Sanders
............
Ronald Howard
Tanaka
............
Burt Kwouk
Old Japanese Man
............
John Garrie
Fortune
............
Jeremy Longhurst
Potter
............
Christopher Benjamin
Japanese Granddaughter
............
Lilani Young
EPISODE DETAILS:
After filming 45 fifty-minute black and white episodes, it was decided to film two additional episodes in colour that could be linked together to create a feature length version which could be released overseas, whilst being broadcast in the UK as two separate episodes.

After a two week break, filming began on the two colour episodes of Danger Man, a five week shoot beginning on 21st March that concluded on 22nd April 1966. 'Koroshi' was the twentieth episode filmed at Shepperton Studios and the 46th fifty-minute episode completed overall. Like the follow-up 'Shinda Shima', there was a slightly different opening sequence and a different arrangement of the 'High Wire' theme.

Written by Norman Hudis the episode is aptly named 'Koroshi', a term from traditional Japanese Kabuki theatre dating from the seventeenth century meaning a murder scene.

Drake's mission in Japan is to investigate the death of female M9 agent Ako Nakamura but all he has to go on is the strange medallion that she was found wearing. After taking tea at the home of an old, wise Japanese man, Drake learns the significance of the medallion. It is the emblem of an ancient murder brotherhood which believed in the poetry of death. Before they were disbanded they were artists in assassination.

Rosemary Riley, a young English girl studying Japanese theatre has moved into the former apartment of Nakamura. Drake posing as a journalist strikes up a friendship with Rosemary who in turn introduces Drake to Sanders, an Englishman who is fanatical about Japanese theatre. Using his new contacts, Drake infiltrates the murder brotherhood but is he going to be their next victim?

Viewers in the West-Midlands had to wait almost two years to see this episode on air.
Episode Titles: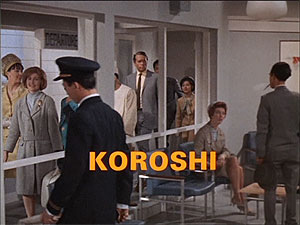 TV Magazine Listings:
I have no TV magazine containing this episode
Filming Locations:
There are no known locations for this episode