Every time I'm offered a glass of wine these days, two men come and take me away

DIRECTED BY:
Peter Maxwell

FIRST BROADCAST:
02/03/1965
CAST:
John Drake
............
Patrick McGoohan
Suzanne
............
Ann Lynn
Lamaze
............
Warren Mitchell
Police Chief
............
George Benson
Zelda
............
Kathleen Breck
Jules
............
Victor Brookes
Gaston
............
Michael Balfour
Henn
............
Larry Taylor
Duty Officer
............
Brian Weske
Old Lady
............
Anita Sharp Bolster
Madame Lafleur
............
Ann Heffernan
Annette
............
Sarah Brackett
Chateau Guide
............
Roger Avon
Pierre
............
Michael Coccoran
EPISODE DETAILS:
Filming on David Stone's fourth fifty-minute episode 'Have a Glass of Wine' began at MGM Borehamwood studios shortly after Christmas 1964 and was completed on Friday 15th January 1965. 'Have a Glass of Wine' was the 20th episode of the revised second series format.

Kathleen, a young British woman, is passing on top secret information and Drake follows her to France. He confronts her in her room and she agrees to proceed as normal so Drake can identify the rest of the spy syndicate. Unfortunately she ends up dead and Drake is charged with her murder. Drake soon escapes but it's a case of out of the frying pan and into the fire.

This was the second fifty-minute episode to feature Warren Mitchell. He previously appeared in 'The Colonel's Daughter'. 'Have a Glass of Wine' also features many actors that later went on to appear in the Prisoner, Michael Balfour, George Benson, Kathleen Breck, Larry Taylor and Robert Rietty (the unseen voice of number two).
Episode Titles: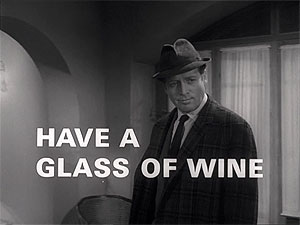 TV Magazine Listings:
I have no TV magazine containing this episode
Filming Locations:
Fitzroy Lodge, The Grove, Highgate, London
Ettington Park, Warwickshire
Elstree Aerodrome
Click here to view the location details