To date I have only had a vicarious pleasure from the liquidation of our clients, but now I can savour it for myself

WRITTEN BY:
Philip Broadley

FIRST BROADCAST:
23/09/1965
CAST:
John Drake
............
Patrick McGoohan
Lena
............
Susan Hampshire
Enzo Bandone
............
Andre Van Gyseghem
Ernesto
............
John Cazabon
Dave
............
Bill Edwards
Ellis
............
Jeremy Burnham
Emmerson
............
John Welsh
Receptionist
............
Robert Rietty
Old Man
............
Andreas Malandrinos
Barman
............
Frank Coda
Fausto
............
Tony Baron
Left Luggage Clerk
............
Harry Tardios
Boy in Bar
............
Ray Barron
Bell Boy
............
Paul Layton
Masan
............
Burt Kwouk
EPISODE DETAILS:
The 23rd episode of the second series was Philip Broadley's sixth fifty-minute script 'You're not in any trouble are you?' Filmed between Monday February 18th and the beginning of March 1965 at MGM Borehamwood studios, the episode originally had the working title 'The Rome Story', until it was changed on Monday 15th March.

The plot of this episode is almost identical to that of the first series episode 'Name, Date and Place'. After a fellow M9 agent is murdered Drake is sent to Rome to investigate and after retrieving the dead agent's tape recorder, learns about a 'murder incorporated' organisation. Drake arranges for himself to be assassinated at midnight in order to flush out the assassin and to identify the leader of the organisation.

This episode features Susan Hampshire with whom McGoohan had worked with on the Disney film 'The three lives of Thomasina'. Susan also appears in a second Danger Man episode entitled 'Are you going to be more permanent'.

Andre Van Gyseghem who first appeared in the Danger Man episode 'Fair Exchange' plays the part of the murder syndicate boss Enzo Bandone. He would later appear in the Prisoner episode 'It's your funeral' as the retiring number two.

Featured in many other Danger Man episodes, the faintly haunting song 'Mio Amor Sta Lontano' is very predominant and is used more than just incidental music. This song was released on a 7-inch single in 1966 by Angelique on the "PYE" label. The song was actually written by Rod Argent of the Zombies. Its English title is 'I remember when I loved her' and appears on the Zombies first album 'Begin Here'.
Episode Titles: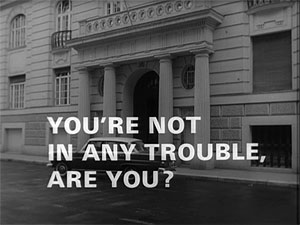 TV Magazine Listings:
I have no TV magazine containing this episode
Filming Locations:
There are no known locations for this episode