Like many talented men I sometimes give way to certain weaknesses

WRITTEN BY:
Philip Broadley

DIRECTED BY:
Michael Truman

FIRST BROADCAST:
30/09/1965
CAST:
John Drake
............
Patrick McGoohan
Simone
............
Georgina Ward
Sir Noel Blanchard
............
Griffith Jones
General Carteret
............
Jack Gwillim
Lady Blanchard
............
Patricia Haines
Serge
............
Mike Pratt
James
............
Richard Owens
1st Counteragent
............
Fredric Abbott
2nd Counteragent
............
Ray Roberts
Business Man
............
Edward Sinclair
Politician
............
Beresford Williams
EPISODE DETAILS:
Philip Broadley's next script 'The Black Book' was the 28th fifty-minute episode and the second episode to be filmed at Shepperton Studios between Monday 10th and Friday 21st of May 1965.

The episode made use of the new base at Shepperton with Littleton Park House in the grounds of the studio being used as the home of General Carteret where Drake learns of his next assignment. Also in the grounds of the studio were the Ornamental Gazebo where Sir Noel Blanchard finds his directions in an urn and the boathouse in which the episode concludes. Unfortunately these two locations have since been demolished.

In this episode General Carteret's brother-in-law Sir Noel Blanchard who lives in Paris is being blackmailed and insists that Drake investigates. Drake refuses, stating it's a matter for the French police, but Carteret threatens Drake and gives him no other option than to accept the job. Drake soon succeeds in identifying the blackmailers, but this episode shows more depth to Drake's character, with him almost falling for the beautiful Simone played by Georgina Ward.

Two of Broadley's earlier episodes had dealt with the combination of culture and crime in 'The Battle of the Cameras' and 'The Mirror's New', but where 'The Black Book' scores over its predecessors is in the melancholic thread that runs through the two main characters, the Russian defector Serge and French chanteuse Simone. Although both blackmailers, they are not solely heartless professionals or murderous hedonists. Serge is passionately in love with Simone, appearing genuinely hurt when she deserts him, tenderly nursing one of her discarded shoes, while the initially cool Simone is divided in her loyalties, abandoning Serge for Drake, despite her protest that she hates him. 'There's a saying about hate. It's a close relative of another emotion', the M9 agent observes and when he finally leaves Simone to her lone holiday on the Adriatic, the look on her face shows that money isn't the only thing she loves.

The episode's melancholy tone is enhanced by Edwin Astley's new theme 'Mal au Coeur' which is heard throughout the episode and was later rerecorded and issued commercially. The overall feel of 'The Black Book' is more film noir and expressionistic than any other Danger Man episode and is one of my all-time favourite episodes.
Episode Titles: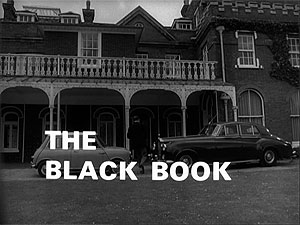 TV Magazine Listings: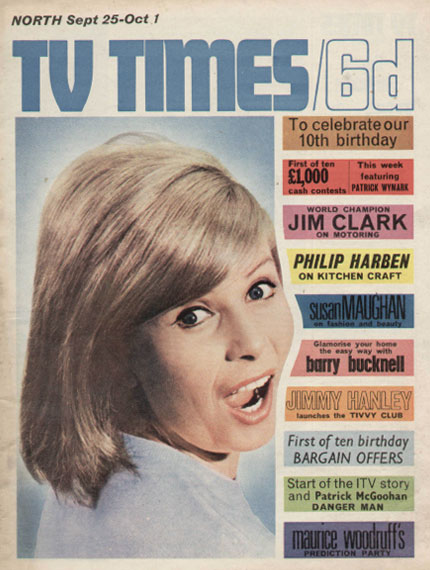 North Edition
Sep 25th - Oct 1st 1965
Filming Locations:
Littleton House, Shepperton Studios
Littleton House, Shepperton Studios
Desborough Bridge, Walton-on-Thames
Desborough Cut, Walton-on-Thames
Walton Bridge, Walton-on-Thames
Click here to view the location details