No one will be surprised when that dreadful Mrs Stanway takes in a drunken writer

DIRECTED BY:
Michael Truman

FIRST BROADCAST:
21/10/1965
CAST:
John Drake
............
Patrick McGoohan
Emma
............
Gabriella Licudi
Pilkington
............
Robert Urquhart
Commander Collinson
............
Howard Marion Crawford
Phillippe Granville
............
Frederick Bartman
Colonel Torres
............
Gary Hope
Customs Official
............
Jerome Willis
Rosalind Fielding
............
Judy Huxtable
Taxi Driver
............
Clive Cazes
Porter
............
Roger Worrod
EPISODE DETAILS:
The 30th episode of the second series 'English Lady Takes Lodgers' was written by David Stone and was set in Portugal under the right-wing dictatorship of Antonio Salazar. This political background puts the charismatic character of General Torres into perspective.

Drake's mission is to identify and break up a spy ring in Portugal that deals in selling secrets to the highest bidder. Drake takes on the guise of a drunken, spectacle-wearing, unsuccessful novelist who calls on Emma Stanway for help, claiming to be a friend of Arthur Harris who in turn is a friend of her husbands. She quickly takes him in and with the aid of her 'home post office kit' quickly brings his passport up to date.

Knowing Drake's in trouble and down on his luck, Emma offers Drake work but doesn't reveal it's smuggling classified secrets. However the other lodgers, Collinson and Phillipe, are not so fond of the new arrival and quickly learn of his true identity but Drake's not stupid and keeps a careful eye on them.

The episode concludes with Drake realising that Emma has been under the mistaken impression she is working for British Intelligence. When she learns the truth she is very upset and realises that her husband was murdered by Collinson and Phillipe.

'English Lady Takes Lodgers' was the fourth episode made at Shepperton Studios and was filmed between Monday 7th and Thursday 17th June 1965. The Shepperton Studios backlot doubled as an airport complete with palm trees and the wooded area of the studio complex is where Drake and Emma swam to freedom. The studio tank was used for the underwater scenes of Drake and Emma Stanway swimming under water.
Episode Titles: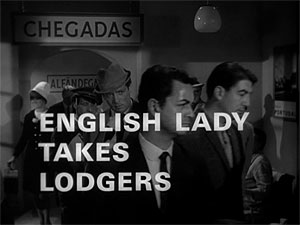 TV Magazine Listings: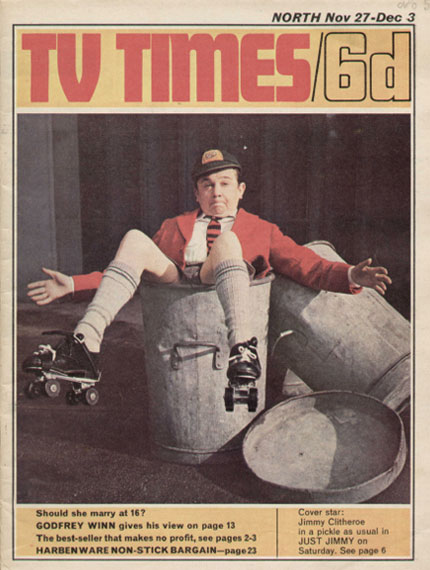 North Edition
Nov 27th - Dec 3rd 1965
Filming Locations:
Cascais, Portugal
Luis Muñoz Marin International Airport, San Juan, Puerto Rico
Click here to view the location details