With me as a friend, he won't need any enemies

WRITTEN BY:
Donald Jonson

DIRECTED BY:
Michael Truman

FIRST BROADCAST:
18/11/1965
CAST:
John Drake
............
Patrick McGoohan
Leo Perrins
............
Bernard Bresslaw
Nora Cazalet
............
Patricia Haines
Xavier
............
Brian Worth
Helen Cazalet
............
Judy Geeson
Commander Marsden
............
Richard Caldicot
The Stranger
............
Stephen Yardley
Sandra
............
Anita West
'Dead' Man
............
Fredric Abbott
Lieutenant Barrington
............
Caron Gardner
Spanish Bus Official
............
Paul Armstrong
Ramon
............
Tony Lee
Flamenco Dancer
............
Marina Vasquez
EPISODE DETAILS:
In production between Monday 8th and Tuesday 16th March 1965 'The Outcast' written by Donald Jonson was filmed at MGM Borehamwood studios and was the 24th episode of the second series.

'The Outcast' is one of the series' most emotionally affecting stories as the characters involved are so ordinary, a refreshing change from, blackmailers, double agents and mercenaries. Drake's mission is to arrest the AWOL naval radio operator Leo Perrins who is suspected of murdering the code stealing Wren Sandra Smith. Drake has to determine whether Leo is part of her spy ring but soon learns he is as uncomplicated a man as his rural accent suggests.

Bernard Bresslaw gives a truly remarkable performance as the tragic Leo Perrins. Although he is known to have murdered Sandra Smith you can't help but feel sorry for him. Drake certainly does.

'The Outcast' is the second episode to star Richard Caldicot, his first appearance being in the episode 'Whatever happened to George Foster?' Richard later went onto star in the Prisoner episode 'Many Happy Returns' as the Commander alongside Brian Worth who also features in this episode.
Episode Titles: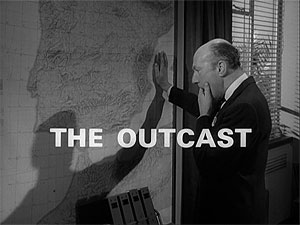 TV Magazine Listings: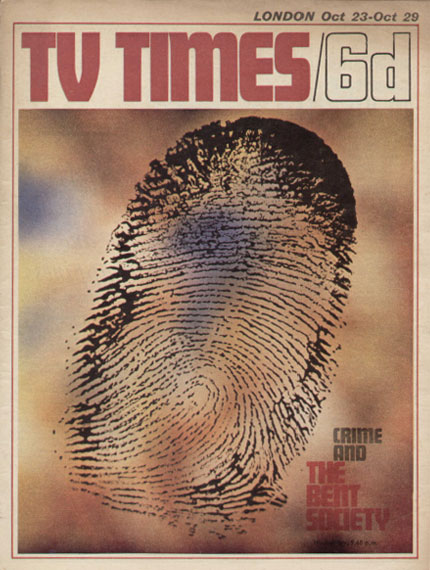 London Edition
Oct 23rd - 29th 1965
Filming Locations:
There are no known locations for this episode