In our line of business one should always take precautions

WRITTEN BY:
Philip Broadley

FIRST BROADCAST:
02/12/1965
CAST:
John Drake
............
Patrick McGoohan
Lesley Arden
............
Susan Hampshire
Kronenberg
............
Maxwell Shaw
Joseph Laclos
............
Howard Goorney
Colonel Salmson
............
John Miller
Man in Museum
............
George Cormack
American
............
Murray Cash
Estate Agent
............
Denis Shaw
French Customer
............
Cameron Miller
Jordon
............
Desmond Cullum-Jones
First Agent
............
Brian Gilmar
Second Agent
............
Frank Maher
Vladimir
............
Tony Thawnton
Girl in Taxi
............
Lesley Allen
EPISODE DETAILS:
The 32nd and final episode of series two was again written by Philip Broadley and had the working title 'The Geneva Story'. This was the sixth episode to be made at Shepperton Studios and filming took place between 5th and 16th July 1965. When the captions for the episode were prepared on Friday 13th August 1965 the title had become 'Are You Going to Be More Permanent?' a question posed to Drake by Leslie Arden.

In Geneva two M9 controllers have gone missing and Drake has to identify why. Drake replaces the station chief and investigates each of the three M9 agents in Geneva to discover who betrayed the two missing controllers. Is it Joseph the waiter, Kronenberg the salesman or Lesley Arden the diplomat's mistress? A park bench, a deserted house, and the lady's own love nest are the venues for some shady deals and surprising action.

At the conclusion of the episode, it is refreshing that it is Drake's charm that wins the day, a resolution underpinned by subtle, bittersweet performances from McGoohan and Hampshire. In spite of the slender storyline and a pivotal plot point that for the second time in consecutive Broadley scripts involves a doll, 'Are You Going to Be More Permanent?' offers much to savour.
Episode Titles: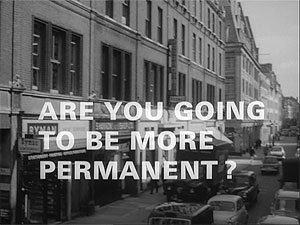 TV Magazine Listings: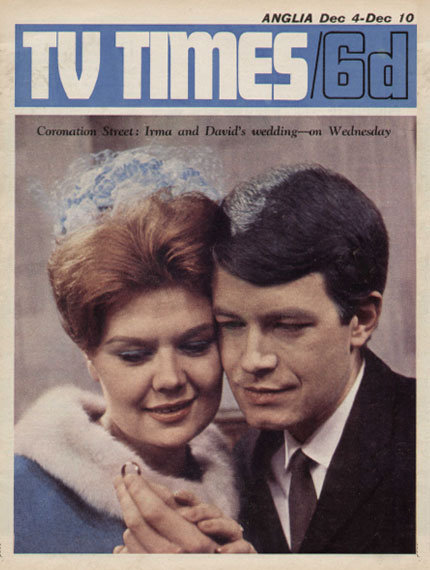 Anglia Edition
Dec 4th - 10th 1965
Filming Locations:
Waudour Street, London
Waudour Street, London
Littleton Park House, Shepperton Studios, London
Click here to view the location details